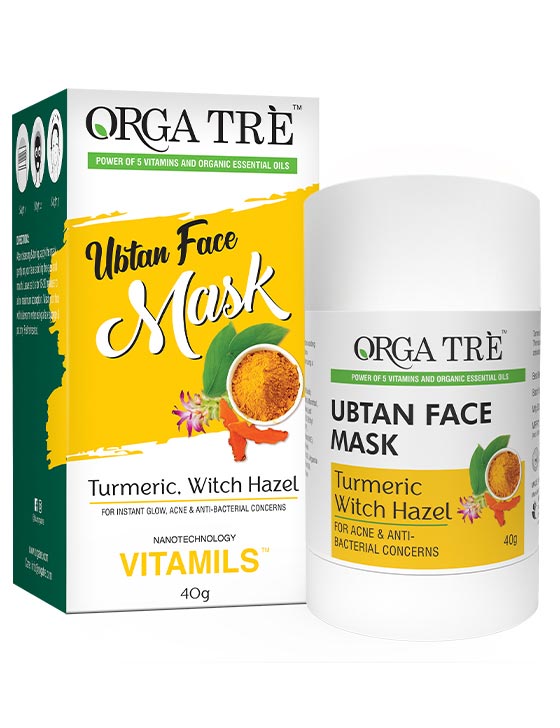 Orgatre Ubtan Face Stick Mask | Reveal Glowing Skin Naturally
---
---
Regular price
Rs. 360.00
-15%
Rs. 425.00
ORG40UFM
313 In Stock Out of stock 313 8 22
---
Print
---
---
Ubtan face pack - The convenient route for luminous
A traditional and natural skincare treatment is the Ubtan face pack which has been used for an era in many cultures, particularly in South Asia, to get an instant glow and target acne and bacterial infection. This face pack is a composition of various natural ingredients, grains, and herbal powder. It is typically a dry powder that is diluted with water, milk, rosewater, honey, or yogurt to create a paste to use it. But, nowadays Ubtan face pack comes in the form of a stick also just similar to lip balm, which is basically designed for mess-free application. And, there is no need to use any brush or fingertips to apply this Ubtan Face Stick Mask.
The Orgatre Ubtan Face Mask Stick is a mud mask created with the power of Vitamils which is the composition of Vitamins and essential oils. This is formulated with a blend of natural ingredients such as diatomaceous earth, turmeric, sandalwood, hazel leaf, argan oil, etc. which reduces skin irritation, and redness and gives you a radiant complexion. These mentioned ingredients are known for their several beneficial properties.
Benefits of Ubtan face pack ingredients:
• Diatomaceous earth: It contains various properties such as exfoliation, extra oil reduction, gentle cleansing, detoxification, and calming irritation of the skin. It is a fine powder-based substance that has a gritty texture which makes it a natural exfoliant.
• Turmeric: When we talk about any skin care product like Ubtan face pack, then turmeric is an essential ingredient. It has several benefits for the face or skin such as anti-inflammatory, anti-fungal, antioxidant, anti-aging, and brightening properties. It is important to note that turmeric can temporarily stain the skin yellow.
• Sandalwood: A very popular ingredient of herbal face pack known for numerous benefits for the skin like anti-inflammatory, antiseptic, brightening skin tone, anti-aging properties, and cooling and soothing effects.
• Hazel leaf: Hazel leaf sometimes called witch hazel is used in skin care products and treatments for its advantages for the skin. In mud mask, it offers several benefits such as soothing the skin, toning the skin, controlling extra oil, anti-oxidant properties, hydration, and moisturization.
• Argan oil: A versatile and nourishing element that contains various specifications such as moisturizing the skin, anti-aging properties, soothing inflammation, enhancing the skin tone and texture, providing essential nutrients, etc.
• Marula seed oil: It is rich in essential fatty acids such as Omega-6 and Omega-9, and also contains Vitamin E & C, minerals, and antioxidant properties, which give a healthy skin complexion. It is also helpful in resolving the anti-aging and brightening the skin.
• Sea buckthorn oil: It contains moisturizing, anti-aging, brightening and enhancing the skin tone, soothing and calming the skin, acne reducing properties. It is used for maintaining the skin's hydration, removing the skin's redness, and healing wounds, burns, and other skin irritations.
Why Choose Orgatre Ubtan Face Mask Stick:
Selecting the Ubtan Face Mask Stick will be the right choice as it provides a lot of benefits for the skin. Here, we are explaining the benefits:
• Exfoliation: As we discussed earlier, the Ubtan face mask contains some ingredients that may help in exfoliating the skin and promoting cell turnover.
• Brightening and radiance: The available ingredients like turmeric, sandalwood, etc. have skin-brightening properties. Then it can help in brightening skin, removing the tan, improving the skin complexion, and making the skin more radiant.
• Deep cleansing: This herbal face pack helps in deep cleansing the skin and also helps in removing the access oil, dirt, and impurities from the skin.
• Anti-aging: It is very beneficial to reduce fine lines, wrinkles, and age spots on the skin. This Ubtan face pack contains antioxidants, which help to fight free radicals and also remove aging signs.
• Chemical free: Orgatre Ubtan Face Mask Stick is fully organic. It is made from natural ingredients only and does not contain any type of chemicals. People who want natural beauty can select this herbal face pack.
Application steps of Ubtan face pack:

When you select the Ubtan Face Mask Stick and start using it, you have to follow some steps to avoid any problems related to this mud mask. And the steps are mentioned below:
1. Start by washing the face with Orgatre Vitamin c foaming face wash to remove the dirt and remove access oil from your face. Pat your skin dry with a soft towel.
2. Gently twist or roll the stick mask all over the face by avoiding the eye area in an even and thin layer.
3. After applying, massage properly with fingertips to ensure that the mask absorbs evenly.
4. Depending on the product instruction, leave it for a given time i.e., typically around 10-15 mins.
5. After the mentioned time, remove the mask with lukewarm water.
6. Once you have removed the mask, continue with a skincare routine like toning, moisturizing, etc.

Ubtan Face Mask Stick contains only natural products that are beneficial in skin-nourishing properties. It depends on the individual's experience, and it may vary. It is necessary to go through the instructions provided by the manufacturer. And after using this mud mask, if you are getting any skin problems then concern with a dermatologist as soon as possible.